FREE Fieldpiece Job Link® System Tools Limited-Time Offer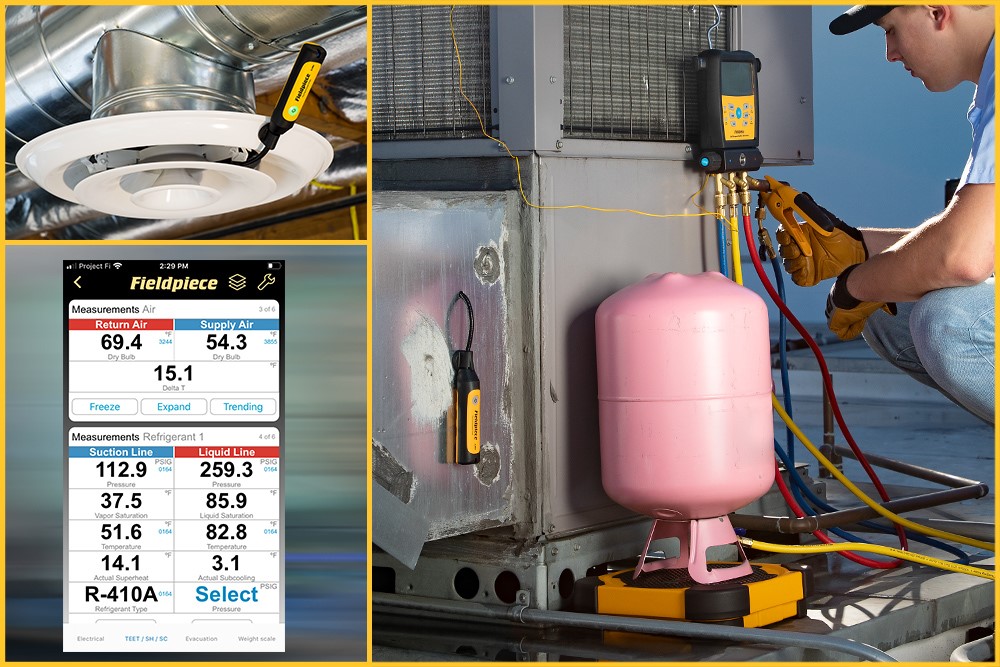 To help you get back to work, during June and July, Fieldpiece is giving customers a set of JL3RH Job Link® System Flex Psychrometer Probes with purchase of a SM380V Wireless 3-Port SMAN ® Refrigerant Manifold.
If you're looking to get the job done at maximum efficiency, look no further. Fieldpiece's special FREE give-away provides you the freedom, accuracy and time-savings you deserve. Ditch logging your data by hand and stop taking air measurements one at a time – upgrade your tools and document air and refrigerant measurements quickly and easily on your next service or installation call.
The beauty is that since both are wireless – you can connect your psychrometers directly to the Job Link app and/or the wireless SMAN Refrigerant Manifold to see live air temperature readings while you're making adjustments to the system. Your work will be more precise, and you can finally end the run-around once and for all. Place your psychrometers – and do the rest in comfort this summer.
---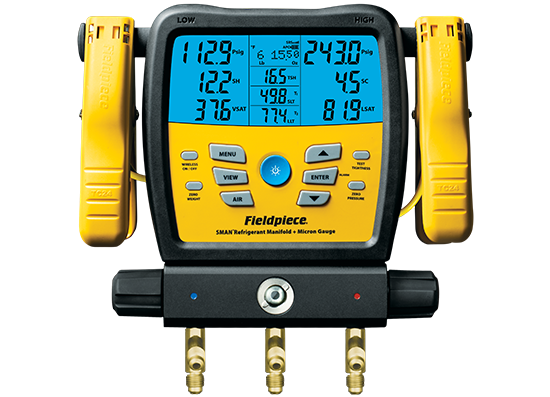 3-Port SMAN Refrigerant Manifold
Our Wireless 3-Port SMAN® Refrigerant Manifold is the toughest, most advanced digital refrigerant manifold on the market. From the extremely rugged overmold casing, reinforced hook, water and impact resistance, the SM380V is built to withstand the rigors of field use so you can do your job easier, faster and better.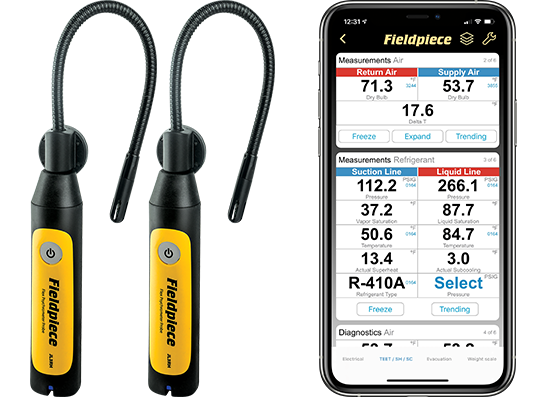 Job Link System Psychrometers
The Job Link® System Psychrometer Probes (a $250 value) have a long flexible wand and strong sliding magnet for easy measurements anywhere on the system – giving you instant live readings directly on your SMAN and/or Job Link App from ducts, plenums, registers, or grilles for accurate diagnostics.
---
Looking for more information on the SMAN® Refrigerant Manifold? Here are a few links to get you up to speed on our latest 3 and 4 port manifolds. Both SMANs are packed with the same great features and software!
New SMAN Refrigerant Manifolds with Russ Harju
Job Link Wireless Tools and the New SMANs with Chris Stephens
Wireless SMAN Refrigerant Manifold How To's
---
Online Rebate Form
Do it all online! Just click the above to fill out the form online and upload an image of your receipt.
Mail In Rebate Form
Download the form here. Complete form (on computer or in pen), print and mail to Fieldpiece Instruments
---
Fieldpiece – SM380V promotion: 1) For each purchase of a Fieldpiece SM380V 3-port Wireless SMAN® Refrigerant Manifold, purchaser shall receive two (2) JL3RH Job Link® System Psychrometer Probes; 2) Purchase of Fieldpiece SM380V Wireless SMAN Refrigerant Manifold must occur between June 1, 2020 and July 31, 2020; 3) Purchase of SM380V Wireless SMAN Refrigerant Manifold must be for purchaser's own use, not for resale; 4) To receive free Fieldpiece tools, purchaser must send Name, Address, Contact information, and copy of proof of purchase (invoice showing part number, product name, and purchase price) to Fieldpiece Instruments, Inc. 1636 W Collins Ave, Orange, CA 92867, or email this form to fpmarketing@fieldpiece.com, with Attn: SM380V-2020, or complete online form here and submit proof of purchase as indicated; 5) Request for free Fieldpiece tool must be completed online, or postmarked by August 31, 2020; 6) Allow 4-6 weeks for delivery of Fieldpiece tool after submission of request. Offer valid in USA and Canada only.