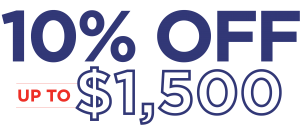 10% Off (up to $1,500) total invoice for HVAC equipment and installation, cost to be shared 1/3 contractor, 1/3 Aireco, and 1/3 Mitsubishi Electric.
ELIGIBLE PARTICIPANTS 
Active Military & Veterans
Law Enforcement
EMT & Paramedics
Nurses
Fire Fighters
Educators
IMPORTANT DATES
Promotion Period: April 1, 2021 – September 30, 2021
Co-op Claiming Deadline: October 31, 2021

All claims must be completed online and submitted to Aireco no later October 31, 2021

Complete and submit all claim forms online. Click the button below to access the form. 
TERMS & CONDITIONS 
Contractors must take 10% off of invoice at sale 

Contractors can submit claims to Aireco for 2/3 reimbursement before claim period ends
Qualifying equipment must be purchased from an Aireco – Southern Virginia Branch location during the promotion period for credit reimbursement
Contractors must provide a copy of the homeowner invoice and Aireco invoice
Contractor is responsible for verifying that homeowner is eligible for this promotion
Aireco will submit for Co-op reimbursement for 1/3 expense (total discount split 1/3 Aireco, 1/3 Contractor, and 1/3 Mitsubishi)
MARKETING ASSETS (click on bullet point to download) 
*1 discount per hero. Discount cannot be combined with any other discount such as other rebates. Utility rebates are allowed. Participating contractors only. Residential single family homes only. Promo may be cancelled or revised without advance notice by Aireco and/or Mitsubishi Electric. Limited to SOUTH VA.* Excludes WR.